2014 Official Selection at the Raindance Film Festival
2014 Official Selection at the Indie Memphis Film Festival
2013 Official Selection at the Bradford International Film Festival
Starring Rachel Middleton and Christofer J. Hardee
Written and Directed by Jared Hogan
Executive Producer Kevin Thomas
Produced by Jared Hogan
Associate Producer Justin Robinson
Cinematography by Ben Joyner
Edited by Jared Hogan
Graded by Steven Lester
Compositing by Ryan Davies
Original Music by Joel Khouri (with Drake Margolnick and Joel Willis)
Sound by Jeremiah Clever
Art Director Eric Hurtgen
Gaffer Brent Christy
Key Grip Josh Jones
Special Thanks to Mack, Meredith and Harvey Brock
and Maria, Winnie and Olive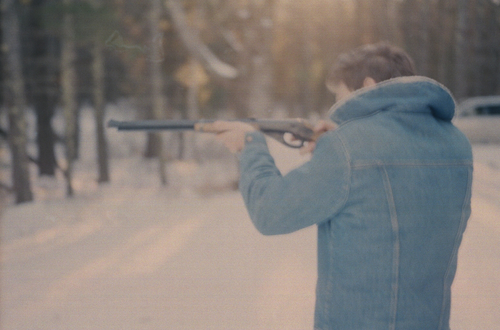 Cinephilia & Beyond article on "Small Little Things" (click image to read interview)
Q&A with Ason Intrique about "Small Little Things"
A little while back I had the pleasure of coming across a beautiful short film by North Carolina filmmaker Jared Hogan called Small Little Things. I got in touch with Mr. Hogan to pick his brain about how he made it and what he was thinking while he made it. This is the first time I interviewed a fellow filmmaker.
So I'm assuming someone broke your heart right? This story is beautifully told, only in the way a broken heart could understand. Tell us how you got from conception to putting it on paper to shooting. What was the major motivation behind this particular story?
JH: It's an interesting question, considering how the film actually came about. It didn't come from heartbreak. The love story was really just a byproduct of what I really found myself wanting to say at that point in my life. By the time I released the film publicly, it had been in my head for nearly four years. It was really born out of what was happening in my life. At the time, I had just graduated from college, was married and we were already expecting a child. So, I had to grow up very fast. So, in a lot of ways, it was a way of me exploring some of the feelings I was feeling. I framed the story with characters that were truly vehicles for my own adolescent desires. And then I sent them off to experience the harsh realities of the world. A world where, at some point, those desires lead nowhere. I guess in a nutshell, there comes a time in everyone's life where you look at where you're at and realize that you have to grow up. You've come to the end of yourself as a child. What you're reading was the controlling idea. There was no script. I tried, but it never took. I had a pile of ideas, but it was just that. So, there was a lot of trust from the cast and crew.
Was the decision to tell the story without much dialog an early decision?
JH: As for the dialogue, or lack there of, it was never a conscious decision. Some of it is my lack of experience making decisions for me. Christofer is not an actor. Rachel is an amazing actor. So I really demanded more from her because I knew she could deliver. I had to trust her and use her to elevate the scenes. Part of the decision as well was the crew I was able to bring out. We made this film for right at $7,000 and everybody was volunteering. That said, I never found a location sound engineer. So, we shot the entire thing without sound. I carried a shotgun around from time to time, but for the most part, it was all created after the fact by my amazing post sound engineer, Jeremiah Clever. He built it essentially from scratch.
How long did this take to put together from conception to final cut?
JH: From the original concept dropping into my brain to exporting the final cut, it was probably three and a half to four years. I work a full time job, so trying to raise the money, ask 8 people to volunteer for two weeks and feel like I had my head enough around the idea to take two weeks off of work… It was a challenge to get to that point. Even writing that here, I'm like, damn, that was really hard. But we did it.
In 2014 it's not very easy to tell a fresh love story. How did you do it? What advice would you give someone going down the love story path?
JH: As for it being a love story… that was not really a huge genre decision. I actually think I made a pretty crappy love story. I had so much more in mind for how we would see their relationship form and I just was never able to bring it to life. So, don't make a love story like me.
Tell us a bit about your location decisions. Did you have them all sorted out or did you have a rough idea of what you wanted and shoot what felt good?
JH: Locations. We essentially started filming in Charlotte, NC where I live and work and we shot on the road all the way up to Wisconsin, where my extended family has some property. I had a completely different ending in mind for the film which involved a lot of snow. The original ending was actually to have the couple fall asleep on the side of the road, get snowed in their car to where they were trapped. I still like the idea of the ending, but it ended up feeling unearned – too dramatic and biting in the context of the rest of the story. But that was why we chose Wisconsin. It was quite an adventure. We really would drive, see something and stop and shoot. That's really how I like to work.
What would you do differently if you could make it over again?
JH: I know exactly what I would do differently if I had the chance: not keep it all in my head. There were moments when we were out shooting when I felt totally alienated and alone. And I did it to myself. Not having a script was truly not some auteur decision. It has been nearly 2 years of me talking about making this movie and I was tired of talking about it. So, I decided I wasn't going to let not having a script stop me. In the end, I think we made a good film. But the process could have been a lot more enjoyable. I felt when I was on set, everyone believed in me and believed I was going to make a great film. The problem was, no one knew what that film was, so it was nearly impossible for them to contribute. So, that left me shouldering nearly all of the conceptual weight, and that was a lonely place to be. I wish I could have allowed my crew an opportunity to contribute their expertise instead of it all being in my mysterious head.
Everything was shot so well, tell us about the equipment you used. Are you into gear? Or do you let your Cinematographer make those decisions?
JH: I was very involved with the look of the film. For this one in particular, I felt like everything hinged on our ability to speak visually. All of my ideas hinged on where each character was in a space or in relation to each other. I feel a bit like a mute as a filmmaker. I'm trying to find ways to allow my characters to have a voice and a rounded human nature, but it does not come easily for me. So, the process of composing shots and the visual aesthetic was were I lived.
What is the relationship between you and your Cinematographer like? Have you two worked together long? How do you guys approach creative decisions? How do you overcome creative differences?
JH: The story behind Ben shooting this is pretty funny. Ben Joyner is an amazing cinematographer. He is also extremely young. When we shot this, he was a sophomore in film school. He is from Charlotte and went to SCAD – the same film school I attended – so we have a pretty deep connection in that way. He called me about two weeks prior to production, and at that point I was going to DP it myself and he was coming to AC. He said, "Hey Jared, classes start the same week you're looking to shoot. I'm not sure I'll be able to make it out to AC. Not sure I'll be able to make it. Unless you want me to DP it or something." – he was joking. I said, "Ben, would you like to DP this project?" He thought I was kidding, and I'm not sure really what came over me, but I felt like I saw enough in him for him to be able to pull this off. And he totally rose to the challenge. He studied up on the C300 and was ready to go when we began production. And what he was able to pull off really blew me away.
I love when I see the director edit their films. Is this common for you? Tell us how being the editor and director affects your creative decisions.
JH: I edit almost everything I direct. It's just how I work. A lot of it is I am editing as we're shooting and when I'm in post, I am recalling moments that only I would remember from production. It's just how I seem to work best. To be quite honest though, this film was a huge challenge for me. The film really came to life in the edit room. It took me eight months to edit this. I even sent off a 19 minute version to festivals. It was received very poorly. It made it into one festival. I regrouped and cut it down to the 11 minute version you see now and got it re-scored. Crazy, but true.
The score was fantastic. Can you just elaborate on that process a little bit?
JH: The score was done by some great musicians here in Charlotte. I have a friend who's an engineer here in town. His name is Joel Khouri. Three years prior, we had talked about the music for the film. We really saw eye to eye on it. He ended up moving to New York between that conversation and the making of the film. However, he ended up moving back and so we decided to give it a go. That was after I had an amazing musician approach me about scoring it originally. My now friend Cyril Rampal from Paris (he goes by Black Polygons) created an amazing score for the 19 minute version. Insanely beautiful stuff. But it ended up not working once the film was cut almost in half. I needed a score the spoke to the story, not a story that seemed to take a backseat to the score. So, I decided to re-score the film with Joel. He and two other insanely talented musicians sat in a room for two or three days and created something beautiful.
I saw some more of your work on Vimeo. It all looks really good. What is your personal favorite?
JH: It's hard to speak to my own work. It all feels inadequate and problematic in retrospect. I definitely have a place in my heart for my thesis film from college, "The Earth in the Air." It's flawed and very imperfect, but I really do love it. I remember a friend telling me one time that usually the first expression is the truest expression. That's what that film feels like to me. A film that expresses my perspective as a filmmaker. Hopefully I'll feel similar about Small Little Things in time.
Is there a particular genre you lean towards?
JH: There really is not a genre that I feel confined to. I think, naturally, I tend to explore the darker side of things. I'm not sure why, but that's where my mind tends to drift.
You seemed to have smashed the festivals with Small Little Things. How was that for you? Did you make it to all of them? Tell us about the ones you did make it to.
JH: Festivals. It's hilarious that you think I "smashed" the festivals. The film did terrible. I submitted to nearly 20 and got in to 4 or 5. No one was interested. It was actually incredibly discouraging. You make a film and hope people respond to it in a positive way. And when they don't and all you receive is a rejection letter… that's hard. I got in to a couple, and to those festivals I'm really thankful.
How would you say festivals fit in today's filmmaking culture?
JH: I'm not sure how I see festivals fitting into what's going on currently. It seems the notion of making a short hoping it will lead to a feature is dead. I'm not sure the utility of festivals aside from having laurels around your film.
What can we expect to see from you in the near future? Will there be a feature film soon? Have you made a feature film yet?
JH: As far as what's coming, I'm not sure. I fill a lot of my time with the work I am making at my full time job. I also make a number of music videos and I am currently organizing a film series called "Films About Numbers" which you can learn more about here: filmsaboutnumbers.com. I have a number of ideas for what my first feature could look like, but no immediate plans. But that's the dream.
What advice can you give an aspiring filmmaker?
JH: The only advice I have for an aspiring filmmaker is to keep creating and keep refining.